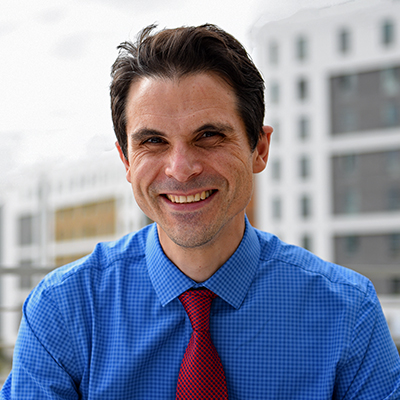 Micah Muscolino
Micah Muscolino specializes in the environmental history of modern China. His current research examines the history of water and soil conservation in China's Loess Plateau region from the 1940s to the present. Drawing on county-level archives and fieldwork conducted in villages in Gansu and Shaanxi provinces, he explores how conservation transformed the biophysical environment and the lives of people who depended on water and soil for their survival.
His first book, Fishing Wars and Environmental Change in Late Imperial and Modern China (2009), focused on the history of China's most important marine fishery, the waters around the Zhoushan Islands, from its nineteenth-century expansion to the exhaustion of its main commercial fish stocks in the 1970s. Examining private and state interests that shaped struggles for control of resources, this study made a pioneering contribution to the field of Chinese environmental history by demonstrating how local, regional, and transnational forces intersected to transform the marine ecosystem.
His second book The Ecology of War in China: Henan Province, the Yellow River, and Beyond, 1938-1950 (2015) engaged with the historiography of war in modern China and interdisciplinary scholarship on war and the environment in world history by focusing on a frontline territory that endured massive environmental destruction and human dislocation during World War II. Tracing the history of war-induced flood and famine disasters in Henan and their aftermath, the book conceptualized the ecology of war in terms of the circulation of energy through and between militaries, societies, and environments. The book shows that efforts to procure and exploit nature's energy in various forms shaped military strategy, the fates of refugees, and the trajectory of environmental change.
He has also published numerous articles on China's place in global environmental history, maritime connections between Mainland China and Taiwan, energy history, and the history of territorial disputes in the South China Sea. As organizer and editor of the "Historical Perspectives on China's Environment" series for chinadialogue.net, he seeks to heighten the impact of Chinese environmental history by making cutting-edge academic research accessible to journalists, NGOs, and policymakers.
He has been a member of the School of Historical Studies at the Institute for Advanced Study in Princeton, NJ with funding from a Mellon Fellowship for Assistant Professors and the National Endowment for the Humanities, an invited Visiting Professor at Harvard University, and Honorary Professor at Shaanxi Normal University and Lanzhou University. His research has also received fellowships and grants from the British Academy, the Chiang Chiang-kuo Foundation, and the Fulbright Program.
In addition to teaching undergraduate and graduate courses on the history of modern China and environmental history, he directs Ph.D. students working on all topics in Chinese history during late Qing, Republican, and PRC periods.
Education

1999
B.A., UC Berkeley
2006
Ph.D., Harvard University
Postgraduate Training

2004-2005
Postdoctoral Fellow, University of Science
2005-2012
Lead Scientist, University of Medical Science
Honors and Awards

1997-1999
Chancellor's Distinguished Fellowship
1999-2004
HGMC Fellowship
2007
TLR Award
2008
Scholar Award
2009
Investigator Award
2013
Research Innovation Award
2014
NBIC Director's Award
2015
Research Development Award
2015
GTASC Award
2016
Research Projects Award
2017
Medicine Initiative Award